How to Watch Animal Planet from Outside the US
Post last updated July 25, 2013
If you are a science, nature or an animal lover then Animal Planet is no new a name to you. It is an endeavor of the very famous Discovery Channel and it has got tonnes of fresh and creative shows to bind its viewers to it.
There are a lot of nature and animal videos presented by the Animal Planet on its online channel. Gator Boys, Treehouse Masters, My cat from hell, Infested, Finding Bigfoot are just a few to name out.
Animal Planet facilitates its viewers to watch its shows and games online. Well the bad news is that this exotic collection of shows, games and puzzles are available only to the viewers of the United States and not to anyone outside the boundary of it. So if you are looking to watch the Animal Planet from outside the US then read on.
How to watch full shows on Animal Planet using Unlocator
Being a non U.S. viewer, you can only see short introductory videos, but when you request for full video, an error message will pop up notifying about the unavailability of the video for outside the States' viewers.
Unlocator will help you to watch every single video as per your wish on the Animal Planet without having to worry about your geographical location. With just 3 simple steps, you can stream full episodes of every video online.
Sign up for the 7 day free trial of Unlocator.
Configure your device with Unlocator.
After all the setup, restart your particular device.
Revisit Animal Planet and stream away
How Unlocator Allows you to Watch Animal Planet Outside the US
Animal Planet has the rights to stream its videos only in the United States, so if anyone tries to access it from outside,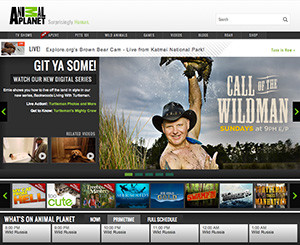 Animal Planet will restrict access.
When you sign up with the 7 day free trial of Unlocator, it asks you to change your DNS. The Unlocator DNS will hide the original location of the request going to Animal Planet. As a result Animal Planet´s servers will think you are located in the US and allow you to stream.
This might may confuse you, but as a user you don't really have to use to worry about the technical aspects as all you have to do is change the DNS settings of your device.
Device and Operating System support for Unlocator
You can set up the configuration of Unlocator on a variety of digital devices such as the android phones, tablets, smart TVs and operating systems of your choice as well as a range of routers and gaming consoles.
In order to see a complete range, please visit our setup page where along with the list you will also get installation instructions.
Become a member with Unlocator
The ease of configuring Unlocator with everyone's favorite Animal Planet on a device of personal choice makes it the most favorable tool for online viewers. You can get a hint of Unlocator with its free 7 day trial period.
After 7 days, by paying a simple amount of $ 4.95 /month, you can enjoy the unlimited access to Animal Planet without worrying about the interruptions or restrictions. It is your guide to the world of uninterrupted online streaming and fun.
To help you out of any problem or to solve any of your queries, we have a dedicated team of customer support officers. Write to us or mail us and we will get back to you within no time.
You can also visit our support page to find answers regarding installation and account modification.
Unlocator opens a whole new world of fun and knowledge to it's subscribers.