The quick answer to your question:
Yes, Unlocator does work with Feeln
Get Started Now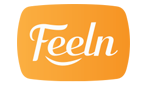 Feeln is an online streaming service that offers classic Hollywood films, shows, the Hallmark Hall of Fame, and Feeln originals. The movies and shows on offer at Feeln mainly revolve around romance and togetherness. Feeln's library contains titles such Shall We Dance, Hitch, At First Sight, Heartland, and Wildfire. Feeln is only availabe in the US which means you will get geoblocked if you try to access Feeln in Canada, Australia, UK, France, or Germany. By using Unlocator, you can bypass geo-restrictions and unblock Feeln outside USA. To get started, create an Unlocator account.
How To Unblock Feeln Outside US Using Unlocator
Trying to watch any movie or show on Feeln abroad will result in a geo-error. Unlocator offers a workaround which helps you trick Feeln into thinking you are actually in the USA. To start the process, sign up for Unlocator account. Then, configure Unlocator DNS on your streaming device. You can find setup guides below. There's no software installation involved. You also get to keep your local IP address when using Unlocator DNS. Unlocator allows you to watch Feeln outside US on Android, Apple TV, iPad, iPhone, iPod, Kindle Fire, OS X, Roku, Samsung, Sony, Ubuntu, Vista, Windows 10, Windows 7, Windows 8, Windows XP, Xbox 360.
Please keep in mind that you need a US credit card to sign up for Feeln. You can also use a prepaid card like the ones from http://www.buyfrompowerseller.com/
The Following List of Devices Work With Unlocator Smart DNS and Feeln
For a full list of compatibility between Unlocator Smart DNS, channels and devices please see our Channels & Devices Page