Watch 2014 FIFA World Cup From Anywhere
Post last updated June 13, 2014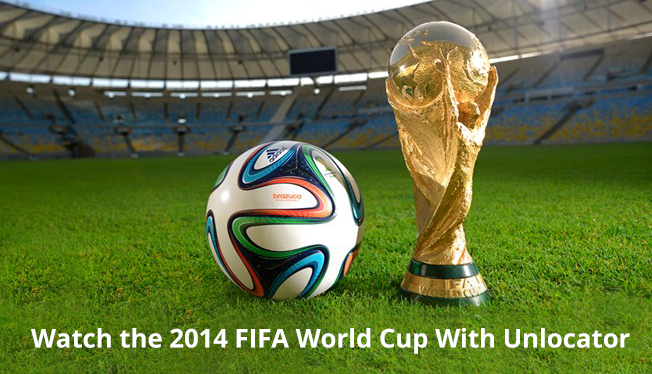 The 2014 FIFA World Cup is right around the corner. Unlocator unblocks a long range of online services, which all broadcast the games for online streaming. That way you can watch the games you want with the commentators you want from anywhere in the world.
All the channels streaming the games will use geo detection to find out where in the world you are located. Unlocator bypasses this restriction so you can watch your team from anywhere in the world – with the commentators you like.
The following channels broadcasts the games and are all supported by Unlocator.
| Channel | Country | Paid vs. Free |
| --- | --- | --- |
| SVT | Sweden | Free |
| DR | Denmark | Free |
| BBC 1 BBC 2 and BBC Sports | UK | Free |
| ITV | UK | Free |
| ZDF | Germany | Free |
| BEIN Sports EN/AR | Middle East English and Arabic | Paid |
| Fox Soccer 2Go | US | Paid |
| Sky+/Sky Go | UK | Paid |
| Canal+ | France | Paid |
| Dishworld | USA | Paid |
In order to unblock streaming of the 2014 FIFA World cup you need to do the following:
Sign up for a free Unlocator trial
Setup your device to use our service
Stream away and enjoy the games
2014 FIFA World Cup Streaming Schedule
| Game | Group | Time | Channel |
| --- | --- | --- | --- |
| Brazil vs Croatia | Group A | 12 June 2014 | |
| Mexico vs Cameroon | Group A | 13 June 2014 | |
| Spain vs Netherlands | Group B | 13 June 2014 | |
| Chile vs Australia | Group B | 13 June 2014 | |
| Colombia vs Greece | Group C | 14 June 2014 | |
| Uruguay vs Costa Rica | Group D | 14 June 2014 | |
| England vs Italy | Group D | 14 June 2014 | |
| Ivory Coast vs Japan | Group C | 14 June 2014 / 2:00AM | |
| Switzerland vs Ecuador | Group E | 15 June 2014 | |
| France vs Honduras | Group E | 15 June 2014 | |
| Argentina vs Bosnia Herzegovina | Group F | 15 June 2014 | |
| Germany vs Portugal | Group G | 16 June 2014 | |
| Iran vs Nigeria | Group F | 16 June 2014 | |
| Ghana vs USA | Group G | 16 June 2014 | |
| Belgium vs Algeria | Group H | 17 June 2014 | |
| Brazil vs Mexico | Group A | 17 June 2014 | |
| Russia vs South Korea | Group H | 17 June 2014 | |
| Australia vs Netherlands | Group B | 18 June 2014 | |
| Spain vs Chile | Group B | 18 June 2014 | |
| Cameroon vs Croatia | Group A | 18 June 2014 | |
| Colombia vs Ivory Coast | Group C | 19 June 2014 | |
| Uruguay vs England | Group D | 19 June 2014 | |
| Japan vs Greece | Group C | 19 June 2014 | |
| Italy vs Costa Rica | Group D | 20 June 2014 | |
| Switzerland vs France | Group E | 20 June 2014 | |
| Honduras vs Ecuador | Group E | 20 June 2014 | |
| Argentina vs Iran | Group F | 21 June 2014 | |
| Germany vs Ghana | Group G | 21 June 2014 | |
| Nigeria vs Bosnia Herzegovina | Group F | 21 June 2014 | |
| Belgium vs Russia | Group H | 22 June 2014 | |
| South Korea vs Algeria | Group H | 22 June 2014 | |
| USA vs Portugal | Group G | 22 June 2014 | |
| Costa Rica vs England | Group D | 24 June 2014 | |