In 2019, we created the Unlocator VPN application, promising the best in online security and privacy – and we delivered. However, there's always room for improvement, which brings us to our new updated client, Unlocator Version 1.2 for Android.
Due to popular demand, our team created a whole new application bundled with a host of outstanding features, including none other than the robust connection protocol: WireGuard. With that said, here's everything you need to know about Wireguard and how to enable it.
Unlocator Android 1.2 – WireGuard is Here
The previous version of our Unlocator app provided the best security protocols in the industry, including OpenVPN, L2TP-IPSec, PPTP, and IKEv2. But as technology advanced, so did we. Now, with the new Android update, our customers can enjoy unrestricted internet with blazing fast speed as they operate with the WireGuard protocol.
Wireguard is a game-changer in the world of VPNs and we're known to be game-changers ourselves, so here we are. Once you update the app, you'll enjoy a whole new browsing experience from start to finish.
First, Wireguard allows you to connect, disconnect, and reconnect at a faster pace, regardless of the server's location.
Second, when it comes to security, the protocol uses smarter, more modern cryptographic primitives than the ones that came before.
Third, speed-wise, Wireguard operates on a fast cryptography code, making your web surfing a lot more efficient.
To enable the new Wireguard feature, follow the steps below:
Launch your Unlocator application.
Click on Settings (The Gear icon on the top right of the app).
Select Wireguard.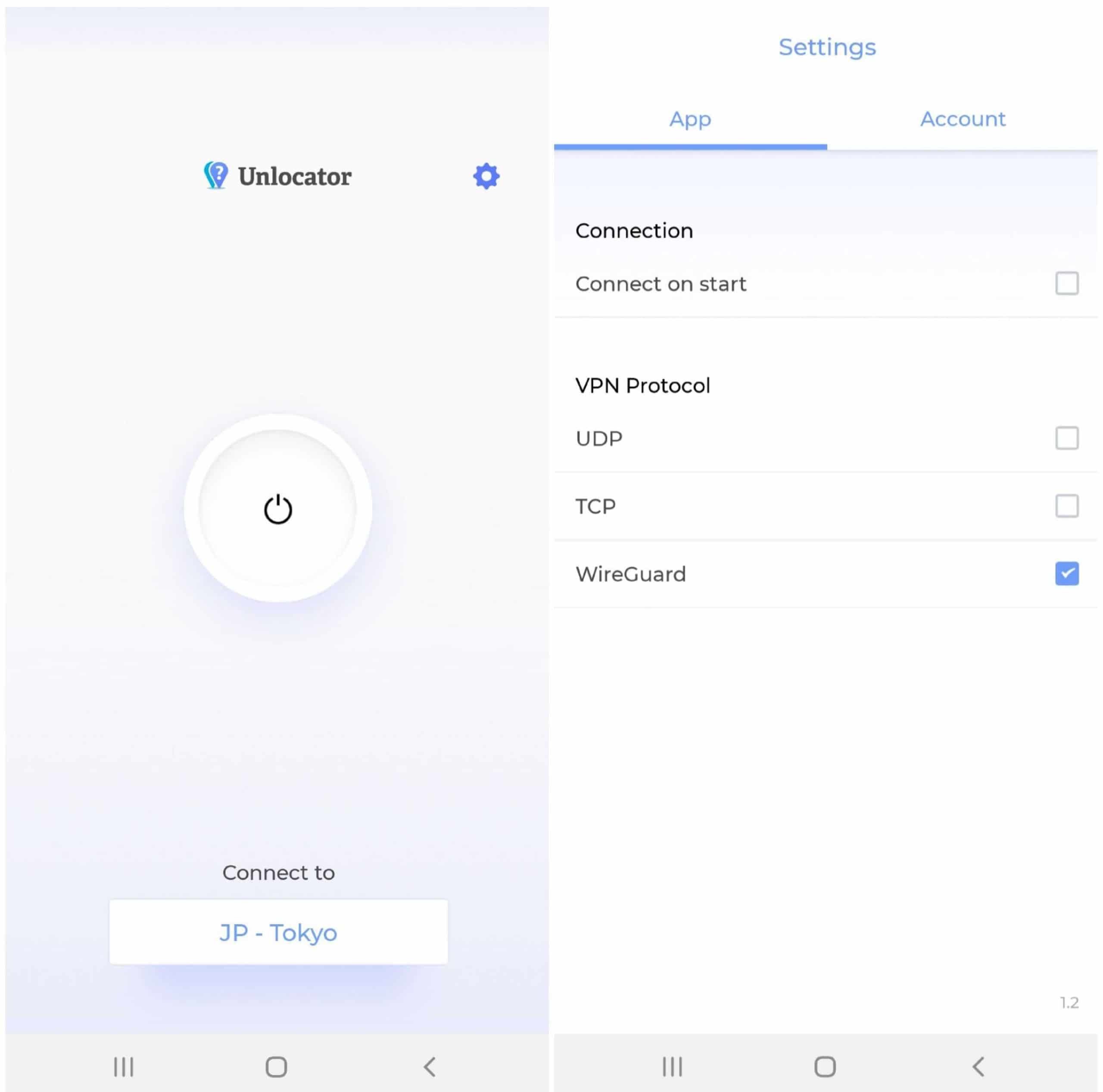 With Wireguard, the journey with Unlocator has taken a whole new route to a better internet experience. However, we have to note that you can still use our older protocols at will, but Wireguard is the protocol to go for.
Getting the Unlocator Android App
If you're an existing customer or a new one, downloading the Unlocator Android app is very easy. If you have a previous version installed, just head over to Google Play Store, search for Unlocator and click Update. Another way to get our app is through our website. Just follow this download link and you'll be able to get the new update within seconds.
Not a Part of Our Team?
If you still don't have an Unlocator account, getting one is as simple as it gets. All you have to do is visit our website and hit the sign-up button.
Once that's out of the way, you'll be able to use our service to browse the internet anonymously, as well as unblock hundreds of streaming services all over the world. As for our iOS users, stay tuned as your application's update is on the way, presumably in the third quarter of 2022.
WireGuard is a registered trademark of Jason A. Donenfeld.